Okay, fair warning – these little bites are hard to stop eating! Creamy cheddar touched with a mild note of spice then topped with a sprinkling of Parmesan and baked in crispy phyllo shells. They might be small but they deliver a mouthful of wonderful!
One of our favorite things – whether it's an afternoon snack or a casual meal – is to nibble on small bites. Sometimes it's a simple slice of cheese and a piece of fruit. But then there are times I like to include layers of taste and texture in that one tiny bite. These tasty tartlets answer that quest.
These heavenly little tartlets are made with things I keep on hand – a good sharp cheddar cheese, a dollop of cream, and a hint of spice from dry mustard and paprika plus a tiny splash of Worcestershire sauce.
Take this gooey goodness and pour them into mini phyllo shells and dust with grated Parmesan cheese. Oh my!
The mini phyllo shells are one of my favorite staples. You will almost always find them in my freezer. They create the perfect vessel for sweet or savory snacks and a quick "go to" for last minute desserts or appetizers.
Depending on your preference you can make the cheese tartlets straight up – strictly cheese if you're a cheese purest – or toss in a slice of cherry tomato, olive or ham. Or mix it up and you've got a feast of flavors.
Easy and delightful! The cheese tartlets make a delicious pairing with your favorite cocktail!
Cheese Tartlets
Pulling together a smattering of
8 ounces sharp white cheddar cheese, grated
1 tablespoon heavy cream
¾ teaspoon dry mustard
¼ teaspoon paprika
¼ teaspoon Worcestershire sauce
15 mini phyllo shells, one package*
2 tablespoon grated Parmesan cheese
Optional additions – sliced cherry tomatoes, sliced green olives or sliced ham
Set a double boiler on a pan of simmering water over medium-low heat. Add the grated cheddar cheese and the heavy cream.
Cook stirring occasionally until the cheese is melted and smooth, about 15 minutes.
Turn off the heat and stir in the dry mustard, the paprika and the Worcestershire sauce.
Place the frozen phyllo shells on a baking sheet lined with a Silpat liner or parchment paper. Place the tomatoes, olives or ham in the bottom of the shells. Using a small spoon fill each of the shells with the cheese filling.
Sprinkle each tartlet with the Parmesan cheese.
Bake in a 350-degree oven for about 7 minutes or just until the cheese starts to bubble.
Serve hot or at room temperature.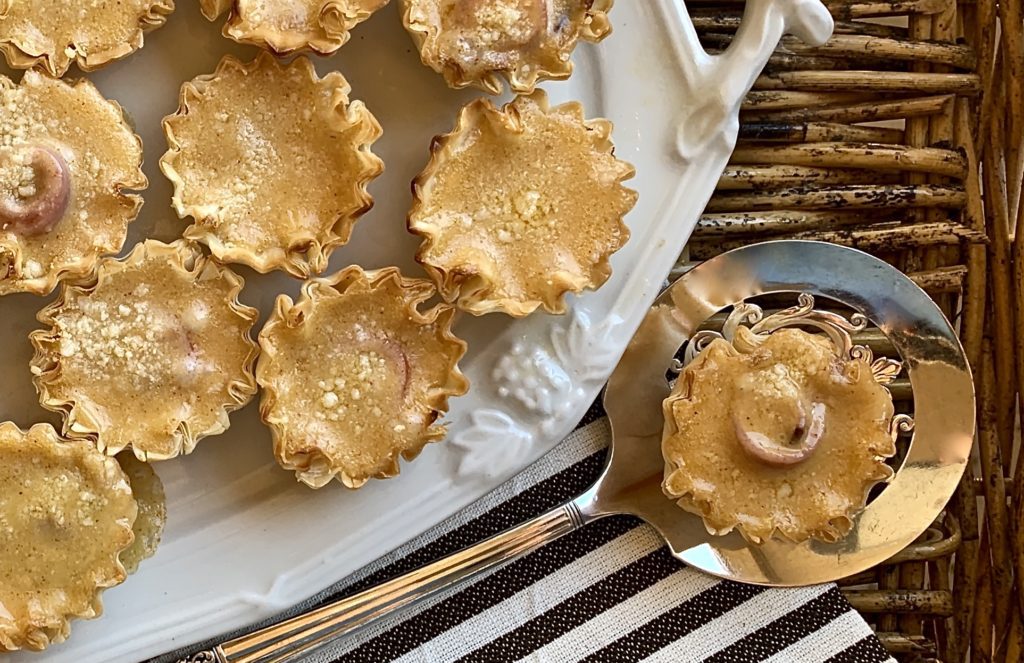 Makes 15 tartlets.
*Athens Phyllo Shells can be found in the freezer section of most food markets or purchased online. https://athensfoods.com
Cheese Tartlets, courtesy of Preserving Good Stock
February 25, 2019
: Makes 15 tartlets.
Creamy cheddar touched with a mild note of spice then topped with a sprinkling of Parmesan and baked in crispy phyllo shells.
Ingredients
8 ounces sharp white cheddar cheese, grated
1 tablespoon heavy cream
¾ teaspoon dry mustard
¼ teaspoon paprika
¼ teaspoon Worcestershire sauce
15 mini phyllo shells, one package*
2 tablespoon grated Parmesan cheese
Optional additions – sliced cherry tomatoes, sliced green olives or sliced ham
Directions
Step 1

Set a double boiler over a pan of simmering water over medium-low heat. Add the grated cheddar cheese and the heavy cream.

Step 2

Cook stirring occasionally until the cheese is melted and smooth, about 15 minutes.

Step 3

Turn off the heat and stir in the dry mustard, the paprika and the Worcestershire sauce.

Step 4

Place the frozen phyllo shells on a baking sheet lined with a Silpat liner or parchment paper. Place the tomatoes, olives or ham in the bottom of the shells.

Step 5

Using a small spoon fill each of the shells with the cheese filling. Sprinkle each tartlet with the Parmesan cheese.

Step 6

Bake in a 350-degree oven for about 7 minutes or just until the cheese starts to bubble.

Step 7

Serve hot or at room temperature.

Step 8

*Athens Phyllo Shells can be found in the freezer section of most food markets or purchased online. https://athensfoods.com